The creature of habit has been coerced to crawl out of its den, shuffle, and redefine its praxis. Frequent lockdowns coupled with seating and timing restrictions at sporadically opened restaurants have pinched the imbibers of fine wines. It has moved them to find new environs and ways of buying their favourite labels. Has it initiated a new trend, is it to stay, and does it change the modus operandi for hospitality outlets, enquires sommelier Gagan Sharma.
BUYING LOCALLY
Packed inside, home drinking has gained unprecedented favourability. Stats suggest nearly 30% of people are going to cut back on going out, whether for drinking or other leisure activities. This pessimistic response to the pandemic, however, has favoured the fine wine markets with imposing effects. The affluent, distant from their periodic wine travels, foreign shopping holidays, and luxurious purchases, are noted to be sourcing their tipples locally now. Chintamani Kaigaonkar, the President of the International Wine & Food Society's Mumbai chapter, has been a renowned hedonist and a collector. "Earlier, we travelled and collected premium wines and brought them back. With the onset of the pandemic, our cellars soon ran dry. We were forced to look at what's available around us, albeit not being habitual to buying locally. Be it their rather basic collection, concerns with poor retail storage, or uninspiring experience at the stores, this option remained non-existent", he says. This complete curb on duty-free purchases and inaccessibility to hotels served retailers an unrivalled opportunity which they clutched with both hands and desirably upped their game. The outcome? Better spreads and experiences advocating the potential of retail purchasing. And now, even with the reopening of the previously preferred alternatives, this approach continues to find amity.
"For fine wine drinkers, the idea of MRP was a new learning. Their choicest wines being available at such affordable prices was a revelation. So, the shift and its hearty acceptance came effortlessly", says Vishal Kadakia, purveyor of fine wines in Mumbai at WinePark. 
While OIV reports a 3% fall in global wine drinking in 2020, there's been a noticeable move towards wines by the spirits-favouring and beer-guzzling junta. And not just the shift, there's been premiumisation as well. While Vishal still regards the INR2000-3000 bracket as the sweet spot, Amber Deshmukh who heads wine sales at Mumbai's affluent Hops & Corks says the INR8000-15000 bracket has seen the maximum growth. "People didn't know these wines were also available in retail, and now that they do, it'll be a continuous practice", he adds. "There's direct connection with a learned professional, a conversation, honest advocacy of what best suits their liking, and a learning in the process, all of which adds to the experience and enforces confident decision making", Amber adds. And this personalised experience is the inevitable precursor to inducting someone into the fine wine milieu.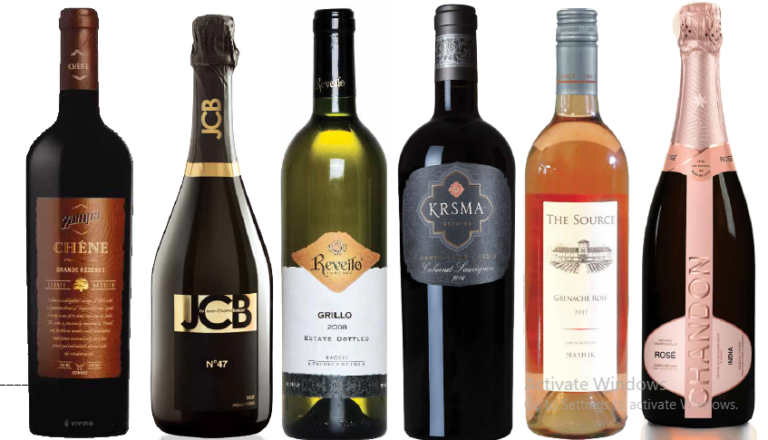 JUST A CLICK AWAY
Another blessing in disguise was the allowance of online ordering and home delivery of alcohol in certain parts of the country. Online sales of wines, according to the Nielsen data, increased by around 234% in 2020 in the US, reaching a high of 500% in the peak of April 2020. 
WinePark introduced their online offering, called WineKart, which also includes Indian wines and labels from other imported suppliers. "It has allowed the luxury to choose with all the research and preferences laid out. There's information on the vineyards, producer & family history, and an easy comparison", Vishal shares. "It's now a habit. It's easy to buy while on-the-go, without any ridiculous markups. With buying directly from the merchant, there's an assurance of quality, authenticity, and apt storage. Their portals offer enough information on provenance, vintage reports, authoritative ratings, etc", says Chintamani. Add to that the convenience of delivering them at your doorsteps, that's enough mollycoddling.
"New people have adopted drinking wines, and are now looking at finding better offerings. They want to learn better and upgrade. People buy when they drink, and they've brought everything. We've brought those who went to hotels to drink good wines to buy them from retail. It'll be tough justifying paying such markups at hotels now", says Vishal confidently. Premium Champagnes have seen a decline, probably since there wasn't much to celebrate, but Barolo, Napa Cabernets, Amarone della Valpolicella, Bordeaux reds, and Super Tuscans have soared. The most interesting vogue has been the seven-fold rise in Rose wines. "We had one Rose from South Africa, today our selection has grown to approximately 10. Plus, we have Indian Roses on WineKart too". Now that's a bent Roses have been waiting for for ages!
ATMANIRBHAR INDULGENCE
Minus the quintessential international styles, fine wine drinkers have graciously turned to Indian offerings. It has been an astonishing revelation not just for them but for common oenophiles. I've openly expressed my adulation for Indian produce and how they've championed their offerings in the past decade. The pandemic stripped off the facades and allowed simply looking at liquid in the bottle. And voila! The spotlight now also includes finer offerings from the backyard. Sula's Rasa and The Source, Fratelli's MS and Jnoon labels, Grover's La Reserve, Chene, and VA collection were always the leaders. Add to that the niche producers too. KRSMA's varietal reserve wines, Vallonne's Viognier, Rose, and Riesling, Reveilo's reserve wines, and Merlot, and York's HBlock Chardonnay & Rose bubbly have found commendations from the guardians of fine palates. Their consistent value for money offering and easy accessibility is unparalleled. "Earlier, we would take what was being served at a soirees. Now, trying them on our own, there's been learning. Indian whites and sparkling wines specially are of superb quality. Exploring them has been a big, pleasant surprise", boasts Chintamani. 
Indian producers have collectively said that their focus has now shifted to retail. Leaders like Sula, Fratelli, and Chandon have even resigned their labels to lure the eyes of a seeking oenophile. While diners may still not go to hotels and pay 3X the mark-up on Indian wines, they're happy to open one frequently after a busy day of working from home.
A CRY FOR CHANGE
Physiologists say it takes 66 days to change a habit. The lockdown has allowed way more than just that. And it now poses a concern for the hospitality industry. With shrunken take-homes and ample restrictions, they're still awaiting the pre-pandemic normalcy. "While people are stepping out for beers, cocktails, and meals, wine drinking is still reeling off of the effect", Vishal notes. Home drinking will continue and so will the online purchasing habits. "I don't even mind paying a 100% markup on premium Indian wines, but now we realise that on premium wines is absurd. Hotels will have to give us a reason to spend as much", Chintamani says. 
Once international tourists start pouring, there might be an uptick, but for now fine wine sales at hotel & restaurants will remain low. And to lure the local denizens, hotels will have to restructure. Their offerings will have to become more dynamic and lucrative, more importantly the pricing will have to be aggressive and sensible. The 2X-4X markup strategy will not yield optimum results. Chintamani suggests it's a good time to introduce corkage, a system where hotels allow guests to carry their own wine and charge a minimal service fee. It's prevalent in most wine-friendly countries, not in India. If the creature's habits have changed, so will have to be of those catering to them. 
Most oenophiles graduate to finer nectars eventually. All it takes is a bit of handholding, enlightenment, and favourable trials. With this influx of new enthusiasm in the providers and the consumers, it's already bridged the gaps and will continue only to get better. A new-age approach is soliciting a change from retailers, tasting rooms, and hotels. And it's the right time to offer that, for once the creature returns to its den, it'll take multifold the effort to lure it out again. 
First published Sommelier India Wine Magazine, 2022