Our list of homegrown gins that signal the start of…
The gin craze in the country is widely believed to have started in 2017 with the launch of  Greater Than by Nao Spirits, India's first legit craft gin. It sparked a wave of launches of locally made gins, with more than a dozen of them now jostling for space on the shelves in the local alcohol store.
As it invariably happens, tastes evolve, and gin enthusiasts are currently looking for something different and refined. Indian gin distillers are responding with innovative manufacturing processes, better botanicals and never-seen-before ingredients, sourced indigenously and from abroad.
Many of them have launched (or are ready to launch) the second(and in some cases second and third) variations of their flagship brands. Here's our list of gins for the discerning Indian drinker:
Juniper Bomb was their first limited release gin which left bartenders and gin enthusiasts equally excited. And now that the consumer has become more discerning, Nao Spirits has a new gin that will help you even beat sleep. Ah, stay awake so you can drink more, brilliant idea, I say! The country's first coffee-infused gin, No Sleep brings together India's two fastest-growing beverages – gin and coffee – to create an exciting mix. It is devoid of any added colour, flavour, sugars, or extracts.
The gin distillates are infused with Sleepy Owl's cold brew resulting in a bold coffee aroma complemented by the crispness of GT. Drink it as GinTo with a slice of orange, a Negroni (with Disaronno), or even an espresso martini; the choices are endless. I like to sip it just neat.
Rs 1000 in Goa, Rs 1850 in Mumbai
The good people behind Pumori gin, Woodburns whisky, & Segredo Aldeia rums at Fullarton Distilleries are soon launching the country's first barrel-aged gin. It'll boast of 12 carefully selected botanicals distilled in small 200-litres tanks that allow the distiller to keep a close watch on the process.
It is then aged for about a year in American oak whisky barrels before being bottled. The gin's personality gleams with the character of the local Himalayan juniper—  rustic, woody, with a feel of an early morning forest walk in the mountains.
Price:  TBC, release expected around February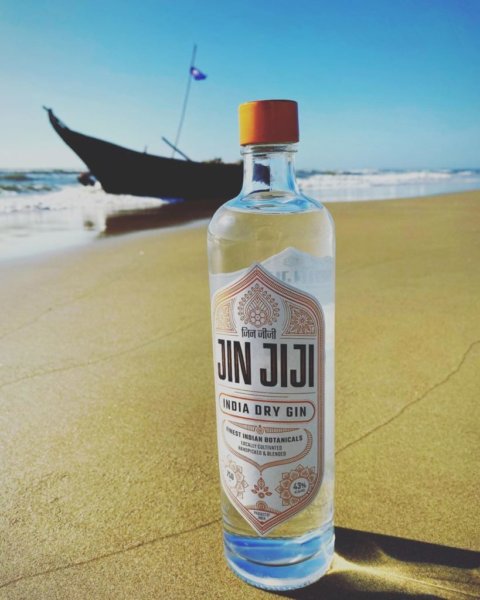 Boasting a GI tag for its heritage, Darjeeling tea is arguably the best tea globally. Add to that the essence of Himalayan juniper that's unlike any other in the world, one that can only be foraged and not be cultivated. Gin Jiji is the result. But it is much more than that. It marries Himalayan and Macedonian junipers with a mélange of other Indian botanicals.
You can taste the tannins and mouthfeel of tea, punctuated with the aroma of the botanicals. The subtle spirit is an open canvas when it comes to how it should be consumed — with tonic, garnishes, or any other way you think is right.
Not available in India yet. Keep an eye on the shelves for a surprise.
Teaming up with the culinary greats of Bombay Canteen, Stranger & Sons created India's first distilled cocktail with pink guavas, aka Peru, as the star. It was launched at the end of 2020 as a  limited edition release. It was a runaway success and now returns for a more extensive nationwide release.
The delicious flavours of fresh perus meet the usual gin botanicals served with a generous dose of chilli-salt mix. Drink it by itself in a coupe/cocktail glass,  over ice, or in a highball with a splash of tonic. Grab a bottle or two when you see it. Even this new edition is a limited release.
Rs 2999 in Mumbai
These two gins represent the first global collaboration for an Indian gin, a celebration of growing trading links between India and Australia. Spice Trade is the lovechild of Stranger & Sons and the makers of the Aussie Four Pillars gin, part of the latter's Distillers Series collaboration.
Stranger & Sons provided a select few local botanicals, including Teppal (Goan take on Szechuan pepper), black cardamom, and chillies, to which the Aussies added macadamia, cashews nuts, and lemon myrtle, amongst others, to craft a unique international spirit. To honour the Indian Ocean connecting the two countries, we suggest it be served with a garnish of lime and a pinch of salt.
For Trading Tides, the Aussies sent their basket of botanicals, including lemon myrtle, anise myrtle, and river mint. The Indians added desi mangosteen, kokum, and tamarind, etc. The result is an uber-cool Indian international gin that's an easy sipper and an effortless charmer. A limited supply of both is expected to hit the shelves soon.
Approx Rs 3500 in Mumbai
The aromatic Samsara was already a crowd-pleaser, and now a new buddy makes things even more exciting. By introducing India's first pink gin, Samsara has opened a category that is only bound to grow. Keeping Samsara's original gin as the base, Aditya Aggarwal and his Goa-based team at Spaceman Spirit Lab have added nuances of rose petals, strawberries, hibiscus, etc., to create an exquisite new gin.
I'd drink it neat and chilled for its aromatic appeal alone. If not straight up, try it with a splash of prosecco or lemonade, which awakens the essences and delivers a perfumed glassful. At 37% abv, it is advisable to have just a single-serve, as long as you can resist the lure of a great gin.
Rs 1800 in Goa 
(Image Sources: Maria Avdeeva (Unsplash), Spaceman Spirits Lab, NAO Spirits, Fullarton Distilleries, High Road Spirits, Stranger & Sons, Four Pillars)
First published in MansWorldIndia, February 2022