Undoubtedly, it's the golden hour for innovations in Indian spirits. And amongst them, the blue-eyed child are the new Indian gins. With a thick Indian accent, unprecedented brio, nostalgia-suffused storytelling, and endless trials of flavours, they've stirred up a storm, one that the country and its tipplers hadn't seen before. It's so engraved now that if your Instagram profile doesn't have a picture of an Indian gin, you'll easily be called a social outcast. So, what've these homegrown gins done, in only a couple of years, that's arrested everyone's attention? We enquire.
British gins were the first to catalogue their botanicals on the bottle, tell their stories, and mesmerise the global population with the idea. Neither were their botanicals local, nor were they the epitomes of storytelling. Yet, consequently it became the norm. "For the longest time, western gins were taking our story, our botanicals, and reselling them to us. Now, after decades, there's increasing curiosity in knowing about Indian botanicals and stories", notes Anand Virmani, creator of Hapusa & Greater Than. And so should it be. After all, we were on the Spice Route for a reason. Karina Aggarwal of Terai further explains, "There's been a global cultural shift. Everyone's interested in knowing what they're consuming, its source, how they've been cultivated, traded, etc. And with Indians travelling extensively now, their understanding of ingredients has grown drastically. There's a sense of pride in supporting homegrown produce and how many you've tried". 
Indian households, mythology, ceremonies, and rituals have for long revolved around botanicals, florals, and citruses. Be it the morning prayers around the Tulsi plant, or nimbu-mirchi hanging on trucks & lorries, or betel leaves, nutmeg, rice, sugar on puja thalis, scents and flavours have forever been the thread holding our daily lives. Put all these emotions & essences in a bottle, and it'll be hauntingly intriguing. Accepting them will come naturally. In what's traditionally been a dark spirit market, no one has consciously allowed such an expression that these new Indian Gins have. And it makes complete sense why we'd effortlessly get allured by them, and not position them as snobbish, but somewhat our companion. Forget not, ease and convenience is what's driving the world now anyway.
Anand recalls from his earlier stint, at Hendricks gin's launch, people enquired what whiskies were being poured at the bar. Now, a decade on, people enquire about the gins on offer. Aman Thadani, creator of Pumori, calles dark spirits a tricky proposition. "Whiskies & rums have their histories, templates, ageing, cask finishes, terminologies, etc. All this makes them pretty technical. Gin on the other hand is a free and simpler playing field". Aditya Aggarwal, founder of Samsara, adds "Gins are easier to talk about. They create a nostalgic recall, and forego the technical gyaan one has to invest in before picking a dram". Vidur Gupta, co-founder of Stranger & Sons, echoes the thought. "Unlike years of encyclopaedic information crunching in wine studies, gins are easy. And their mixability & versatility makes it further playful." Karina adds, "it's also the image of dark spirits in India, a quirky whisky bottle can also be questionable, let alone how to drink it, or the glass of your choice. With gins, there are no such moulds."
PLAY OF BOTANICALS + IDEAS
However, the spice box of the world has so much to offer, it could be easy to overdo. Even the thought of constructing a gin in India can be daunting. Greater Than was the first craft gin in the country in 2017. Anand recalls, "we had a clean slate and could do whatever. It was equally exciting and confusing. We started with 120-130 single ingredients, then started putting them together, and the final recipe had only 10-12 ingredients". Vidur says "we have a problem of plenty in India. There's an endless list of botanicals we know of and even bigger one of those we don't". However, "No single ingredient is going to trigger someone into liking a gin. It does become a differentiating factor though, one that enriches their experience", Anand adds. 
In such a vast expanse of ingredients, then how does one construct a gin? "Your gin distills down from your concept. We wanted to make a gin that's bold, stands out in the crowd, is inherently Indian, and resonates with London as much as it does with Delhi. And to achieve that, our homework was to taste over 300 gins!!", Vidur reminisces. Karina opines " though it's a combination of various things, foremost are your personal preferences and knowing the palate of your audience. What reigns eventually is that it must be a product of provenance". And the expression expands beyond just what's inside the bottle. Aman puts it aptly, "put gin in a bottle versus a story, and you'll see the difference. Before one picks a bottle, if you could tell them its inspiration and journey, the experience will grow manifolds". Karina adds "from the label design to the bottle style, the gin needs to stand out, and have its own personality & identity. Consumers are also asking their tipples to be different, and it's imperative that new gins do that."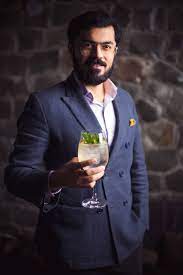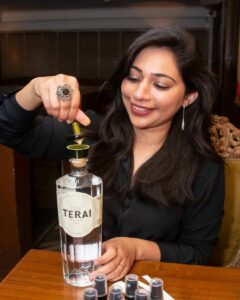 From these plethora of emerging ideas, one that shines is that of celebrating India. Our creators are proudly coining and nearly-boasting inscriptions like 'India Dry', 'India Spirited', 'Himalayan Dry' on their labels. But what are these terms and what do they signify? Like London Dry Gin, is there one that defines Indian gins? It's simply too early to say. There's no one India, in its geographic spread, cultural diversity, culinary spreads, languages, and attractions, there're mere interpretations. And thats the most exciting feature in these new gins. They've celebrated India for Indians, that too at a time when our politics and a pandemic have divided us like never before. There's a dire need for something that binds us together and makes us fall in love with our India again, and Indian gins are playing their part. 
Creators have very carefully and distinctly picked various features of India and put them in their bottles, on their labels, and in their stories. Haupsa, sanskrit for juniper, celebrates foraging local juniper from the snow-clad Himalayan mountains. A whiff of its gin teleports you to a rustic land with moist wood, petrichor, forest-floor, and fills you with a sense of adventure. Terai descends to the fertile & plush lowlands and has an imposing Indian accent through its fennel, tulsi, citrus, and floral hues, kindling a comforting assurance of botanicals you instantly resonate with. Stranger & Sons celebrates the Indian ghats and its agricultural diversity by putting a complex mix of spices, citruses, and aromatic botanicals in the hue. It teases you before it arrests you like a cruel mistress and doesn't let you go. Samsara picked its botanical and aromatics reminiscing the scents at an Indian ceremony and the gin exhibits that in its floral liveliness, captivating secret citruses, and a regal khus note. And for once think, what do Himalayas, plush lowlands, the ghats, and Indian ceremonies have in common – nothing. And what's India without either of them – nothing. And thats the play that Indian gins have mastered – there's a union even in their diversity.
Finally, at a time of home drinking culture, where conversations around a refined drink have become the norm, gins are providing a reason to celebrate. Aditya exclaims "there's a lot to resonate for everyone from a single sniff and sip of a gin". Karina agrees and adds, "there's a level of familiarity Indian gins offer, be it in the botanicals, or in their names, or designs". Gin & Tonics have become the new norm. Vidur isn't surprised, "we are a hot & social country, drinking chilled tall drinks makes sense". Anand is on the same page and says "we're in a country where whiskies are our almost national drink, but why? Drinking ideas from the EU don't make sense in India". Aman opines "consumers have elevated their game and for them a gin's not a gin, a tonic's not a tonic anymore, it's much more". 
Karina takes it a step ahead and claims "you can't do anything wrong with gins, add any cordial, flavours, syrups, tonics, sodas, garnishes, throw them in any glass and it's acceptable. Do that to a single malt whisky and you'll get stares from every corner of the room. Unlike with some other spirits, here the consumer decides how they appreciate it. And you might be the only one who has that concoction in that pincode, which is so empowering". And even for a humble G&T, Aditya says "there's such sincerity in the process – cutting the fruits, getting the ice, picking garnishes, apt glassware, which elevates the aesthetics of the drink and the drinking ritual." Sounds pretty civilised, eh!! 
India was always celebrated for its precise craftsmanship, and botanical offerings. With over a dozen gins on the shelves already, and many getting dressed to be unveiled, all in a span of 4 years, the gin revolution has been announced. There's such promise in the category that one can't help but anticipate more exciting introductions. If you haven't befriended and added Indian gins to your repertoire, do it promptly. This wave isn't calming down. 
First published in Sommelier India The Wine Magazine  2021