PASSION, PATIENCE & PERSISTENCE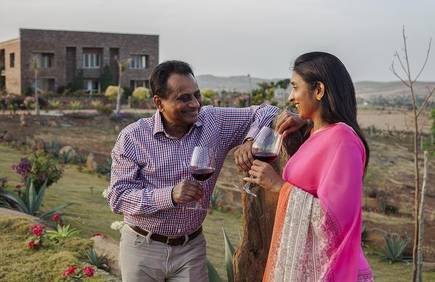 Tell someone India makes wines, you'll get an absolutely surprised face! But then, tell an Indian that we make wines in Hampi Hills, and that's a bigger shocker. And they find themselves further astonished upon tasting the wines that KRSMA Estates, the sole vintners in the archeologically rich UNESCO World Heritage tagged region, have been crafting. Yes, not producing, crafting. As they complete a decade of successful winemaking, its been one of turning odds in their favour, putting Indian wines on the world map, and redefining what human passion, patience, and persistence can yield.
If you know of KRSMA, you'd know the story of Krishna Prasad and Uma Chigurupati, christening KRSMA through the union of their names. Krishna got his first taste of wine at an early age through a bishop from the Vatican. And it arrested him like a cruel mistress that wouldn't let go. Uma only learnt about the extent of his passion when after their marriage she moved in to their 2BHK apartment and appointed herself as their home-winery's cellarmaster. The bug caught her too, and soon they found themselves enrolled in a winemaking course at the University of California, Davis. All this, while Krishna was engrossed in his professional pursuit of creating amongst India's largest pharmaceutical company. In due time, with that running full-throttle, and kids settled in there disciplines, the duo shifted to their vinous desire of creating a winery. With a dream to setting up in South France and Tuscany, they chanced upon a plot in Hampi Hills in 2009 which they fell for effortlessly. It today holds the roots for KRSMA's destiny.
The laws of international winemaking don't apply to India, and those of Nashik & Nandi Hills to Hampi Hills. The rains are erratic in this rather arid area, with barely anything to support in miles. KRSMA's introduction to the world could've been with their 2010 vintage, but destiny and nature had other plans. Judging the resultant nectar with his pharmaceutical precision, Krishna deemed the wine unfit for drinking, subsequently denying its release. "We make wines that we like drinking, if we can't drink it, we won't release it" he says. And it's this approach that's bagged them numerous awards across the globe later. Being Guinness Book of World Records awarded marathoners, their approach is one of delayed gratification. They know it's the silent hardwork that helps on the final day. The release of their better prepared 2011 Cabernet Sauvignon and 2012 Sauvignon Blanc in 2013 took oenophiles by surprise, with a fantastic release the following vintage too. The red was viscously smart, definitely way ahead of its time for India. The white was charming, pleasing, and as critics defined it, was 'spring in a bottle', which Uma cherishes as its fondest compliment. Very soon, they were pouring in culinary meccas in New York & Manhattan, earning themselves the righteous boast-worth glory. Call it Krishna's precision, or Uma's maternal care & adulation for her vines, KRSMA was igniting palates and minds across the world.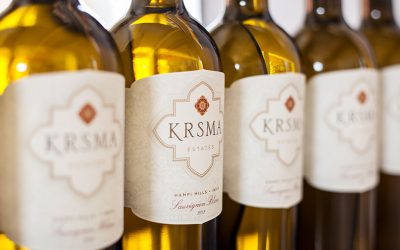 2013 changed the rhythm at the winery while the crop just couldn't justify the persona KRSMA's  'reserve' tittle. Soon, they moved to announce their second label, calling it K2, a more value-for-money proposition and a stepping foot upto the reserves. Even stronger a change came with the 2014 vintage, where the duo had to define KRSMA's template and the two strong personalities clashed, with ultimately the cellarmaster having her way. Krishna was driven to achieve a Bordeaux-centric, restrained, and oak-oriented image for their Cabernet, while Uma was fascinated with the Napa Valley template that favoured the fruit, silky tannins, and approachability. His hands-off approach allowed Uma to toy with cellaring experiments which she cherishes and announces as one of her most prized vintages with noticeable glee.
While the story of KRSMA seems glorious, victorious, and all full of joys, it has presented many challenges and heartbreaks. Holding a Master's degree in Soil Microbiology and Plant Pathology, Uma understand that a wine is a result of what the vineyards yield. Water scarcity in Hampi Hills is a real issue. To overcome that, KRSMA built lots of dams, charged borwells around the vineyards, and invested in rainwater harvesting. All this, just to control the soil pH and keep the vines alive. And soon they learnt how to use these arid conditions to their favour, that now demand very little intervention, and presents near absence of pest & fungal threats. Since 2014, vineyards have seen nearly 5 years of drought. However, thanks to this early change in vineyard practices, wines have been nothing short of being impressive and inspirational. The recently released 2016 vintage is testimony of that. "Viticulturally, it's been a very challenging year, demanding a lot of personal study, trails and errors, and rejigging our harvest cycles, preponing them by a few months to harvest in cooler conditions", she recalls. And the liquid, thus, shows unprecedented confidence and intellect. Though already 5 years old now, it's still a baby in the cot and demands its juror the exact further patience in laying it down for another half decade the way the Chigurupati's have maintained reaching upto the fruits it bears. "Any experiment takes about 4 years to show their impact. And now we also have a better understanding of the area and our soils. Mother Nature has shown lot of affection towards KRSMA. The last 2 years we've been very happy and able to change the texture of the soil, and generate microbes", she says.
Experiments and learnings continue. KRSMA has virtually pulled out all of their Sangiovese, Chardonnay, and Chenin Blanc vines. Though Sangiovese has been the favourite for many, including myself, their Chardonnay was a rockstar. It earn't them their first Double Gold early at the 2013 China Wine & Spirits Awards. Yet, they were just not conducive for the time. While the Chenin is gone for good, new strains have been brought in to revive other varietals, of which few will bear fruits in 2021, marking a new beginning for them all over again! In an intimate disclosure, the Chigurupati's are now eyeing new horizons with blends and bubbles. "I would like to try blending our already proficient Cabernet and Syrah, and would love to revive our fallen varietals. We've experimented with Merlot and Cabernet Franc in the vineyards and give them anther chance. And, a KRSMA sparkling might be a reality soon too", Uma reveals. 
KRSMA has turned a page in India's winemaking history, fuelled more with passion than commercial desires. While a new brand needs big marketing push, KRSMA has one built without much efforts. While what was happening in the background was tricky, the grapes have spoke and shone for themselves. Presenting many 'firsts' – first in Hampi, first reserve only wines, first vintage oriented labels, first magnums, first Indians to make it to the coveted World's 50 Best Vineyards – there's lot more that's expected and desired from the team. And with the way the duo have proven their mettle in their other professional pursuits, and in marathoning, their a promise in their personality to bring more glory to the potential of Indian wines and the region. Indian palates deserve better, and KRSMA seem to be leaving no stone unturned in achieving just that…
First published in Sommelier India The Wine Magazine