If there is a drink to mark India's progress since independence, it would have to be Indian whiskies. As our country has progressed so has our favourite brown spirit. Think about it. The first Indian single malts, Peter Scot and Red Knight, were ahead of their time, and understandably vanished into oblivion without receiving due regard. As we entered the new millennium, our whiskies began to capture the most coveted global awards, turning the heads of
international experts and leaving them astonished by our potential. However, since we always had the knowhow, it came as no surprise to us. We were waiting for our time to come and it has…
Before listing the whiskies that should feature in your drinks cabinet, some considerations must be kept in mind. Along with other countries that produce whisky our grains are superlative, but our ageing conditions differ. We enjoy what's called 'tropical ageing' with faster maturation and more evaporation which results in higher alcohol. One year of tropical ageing in India is equal to four years of ageing in Scotland or in Japan. We don't release age-statement whiskies, therefore, nor do we have the palate for them. Besides, however desirable these whiskies may be, they are expensive and not everyone can afford them. Our excise taxes, duties and licences along with the workings of the bureaucracy are so convoluted that they have smothered the aspirations of many producers. To try to make sense of the price differential between Goa, Bengaluru, Mumbai, Delhi and neighbouring Gurugram for the same label is futile. What's more, brand loyalty and price-sensitivity is so strong among Indian consumers that the scope for new or different styles is miniscule. It makes more sense, therefore, for distillers to first export their single malts and
launch them in the local market later. Still, despite the numerous challenges, they are punching harder than ever pushing the envelope to produce excellent labels.
What follows are eight of our favourite whiskies that stand out and are worth stocking in your drinks cabinet.
The first whisky that put India in the elite group of the best in the world is Amrut Fusion. By winning a collection of awards, accolades and high ratings, it has inspired other producers to aim high. Amrut Fusion came out around the same time that Instagram was introduced and it was possibly the first proper whisky to feature on their feed. It was for many their first introduction to the goodness of Indian single malts and is still the indisputable benchmark for quality. Amrut takes pride in their meticulous process, extensive ageing, and minimalist branding and design. At the distillery I happened to taste their fresh distillate straight from the copper pots and could have easily sipped it all
day! Just a splash of water livens it up, exposing its full potential and layers of flavour. From medals and trophies to palates and hearts, Amrut Fusion has ruled since its introduction.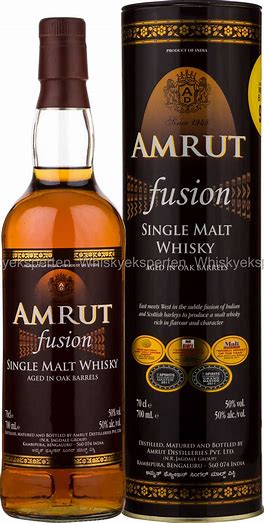 PAUL JOHN OLOROSO SELECT CASK SINGLE MALT
From humble beginnings to creating one of the most popular brands in the country, Original Choice, and moving into premium single malts, Paul John is now adding oomph to Indian drinks with unique offerings, and has created a cult following among global connoisseurs on its own terms. In a country where Oloroso means very little and most people are clueless about its taste and nuances, Paul John offers Oloroso Select Cask Single Malt unapologetically. For me, this whisky makes a strong statement about how Indian whiskies have developed confidently to be on par with global champions. Even more impressive is the fact that the whisky is seen as a gastronomic drink. The sommelier in me can't believe how intellectually stimulating it is, matured in the finest sherry oaks. Given the mastery of distiller Michael D'Souza and the finesse of additional ageing, Paul John Oloroso commands unstinted respect in theory and in its execution.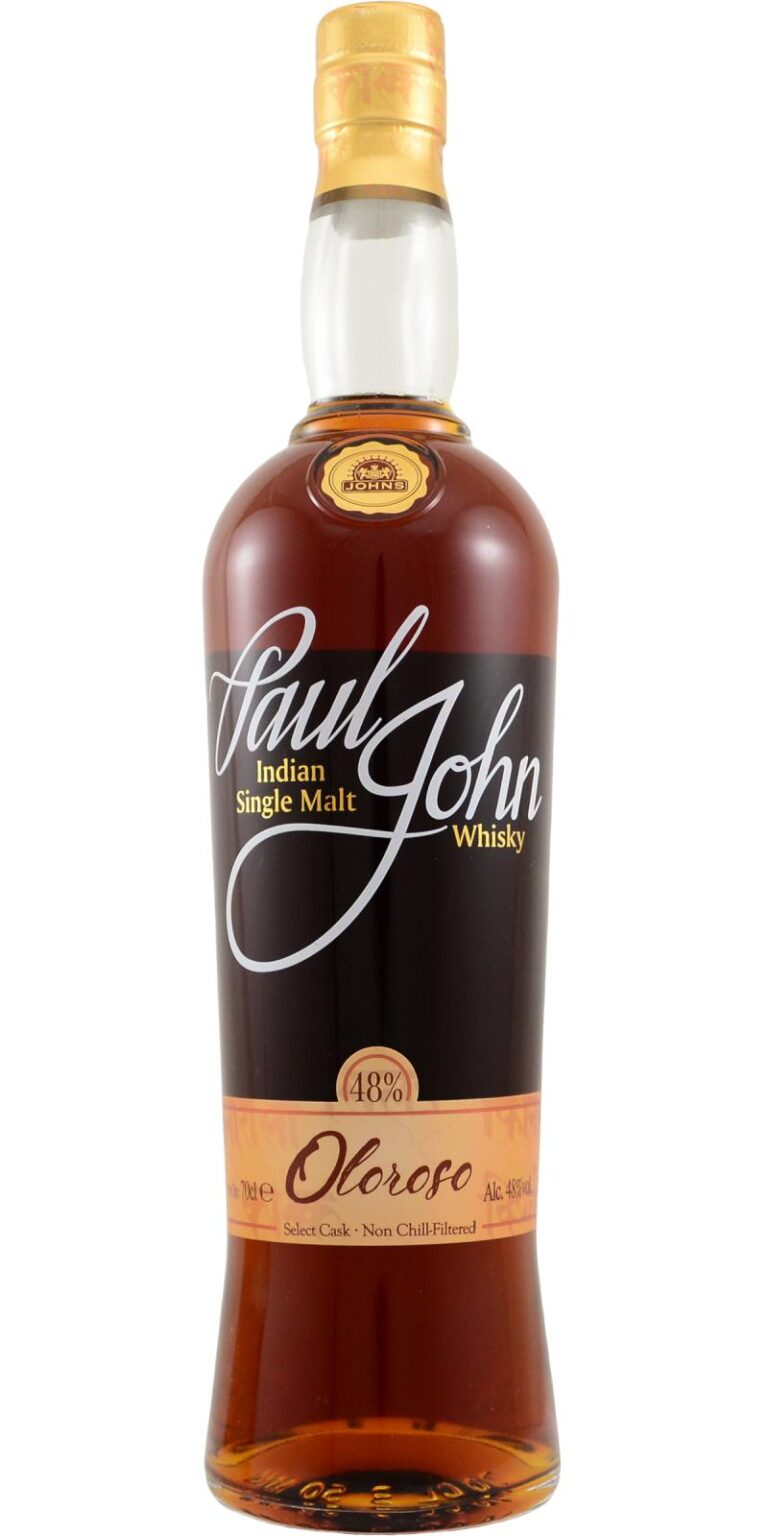 GODAWAN SINGLE MALT SERIES 2
Coming from the powerhouse of Diageo, this whisky is a clear statement that the world is now not only looking at India as a consumers' market, but also as a producers' market. As mentioned earlier, we had the gyaan or knowledge and were just waiting for the time to be right. Godawan's entry has reset the clock. Godawan is the name of the now almost extinct Great Indian Bustard found in small numbers in Rajasthan. With barely 150 surviving, Diageo is hoping to boost their numbers. Unlike the 2-row barley used in Scotland, Indian 6-row barley, which grows in the harsh Rajasthan environment, is richer in protein and flavour. Local water is added throughout the process with the aim to reprocess and put it back into the community. And finally, the product is aged in the yin and yang of Rajasthan's cool and sultry weather in rarely seen cherry casks, which add a different dimension of flavours. The title, Single Malt Series 2 indicates the possibility of more in the pipe-line. It will be exciting to see what Diageo brings out next.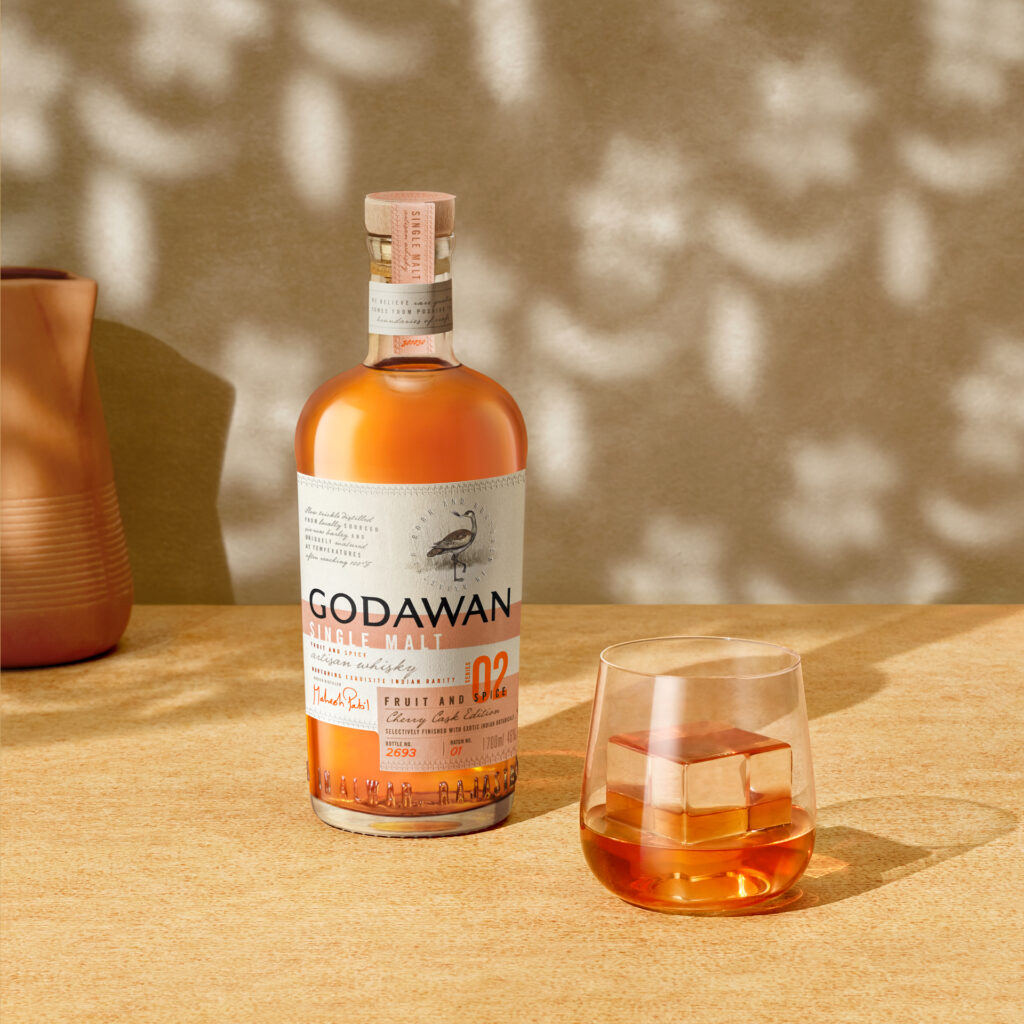 INDRI TRINI INDIAN SINGLE MALT
The world is moving away from age-statement whiskies to cask-finished ones, and an Indian single malt is leading the way. Indri is a small town near Karnal on the Delhi Chandigarh highway and also means 'senses' in Vedic Sanskrit. Trini indicates it is a triad of barrel regimes of different lengths that culminate into what is not only a fine whisky, but possibly the most admirable and hands down most complex whisky. Indian 6-row barley is distilled in copper pots, some peated, some unpeated, and then aged in ex-Bourbon, ex-Bordeaux and ex-Sherry casks from three to six years, finally maturing into something that's a celebration of the senses. What is really commendable is the manner in which the various elements — smoke, malt, casks, ageing and blending come together. It is a testimony to India's prowess at crafting fine spirits.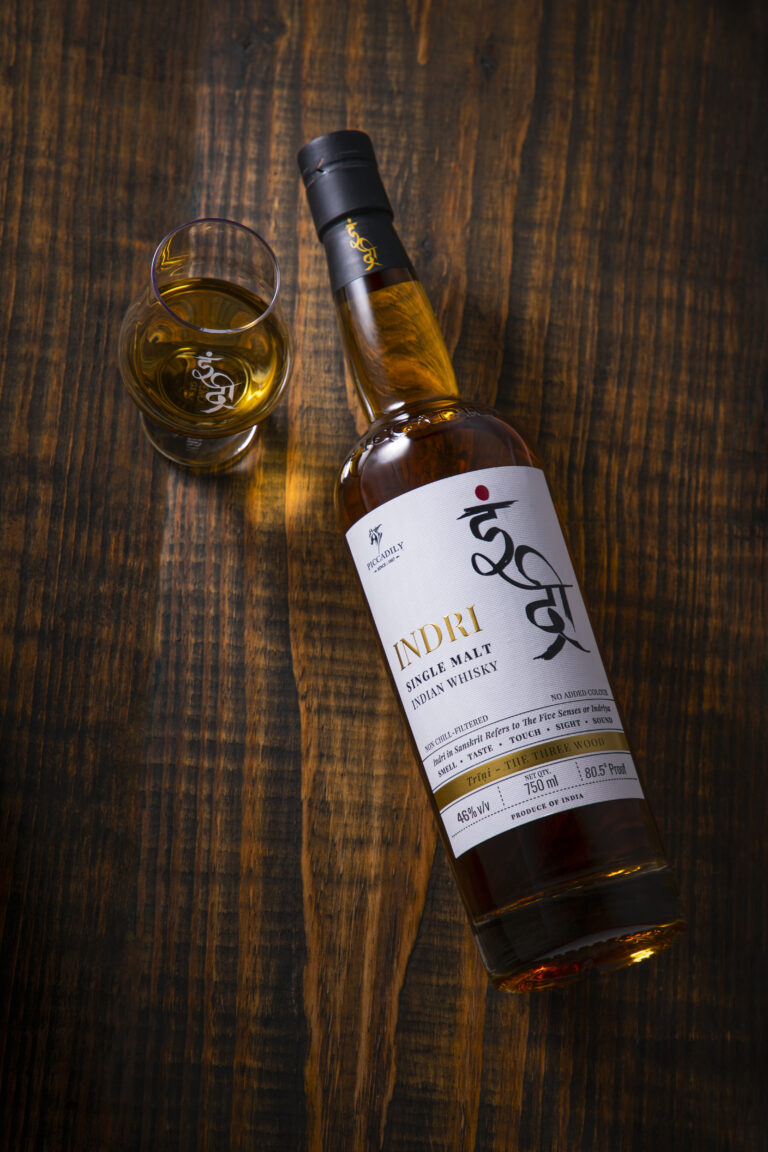 DEVANS GIANCHAND INDIAN SINGLE MALT
GianChand is among those rare whiskies that doesn't try to impress you. While global whiskies hustle about which one is more in-your-face, bigger, more complex and imposing, GianChand refuses to play by that rule. Produced in Jammu and nurtured by its pristine air, water, winds, and sounds, GianChand has a unique advantage of negating to some extent the effect of tropical ageing that affects nearly all Indian whiskies. It is subtle, smooth, complex with delicate layers, bound with elegant oak. To fall for GianChand is easy even if you're not a whisky lover, let alone a connoisseur. Not only does it make for a delectable sipping whisky, it withstands the pull of stronger whiskies with their volume or personality. In that crowd, GianChand is a standout, or let's say outstanding!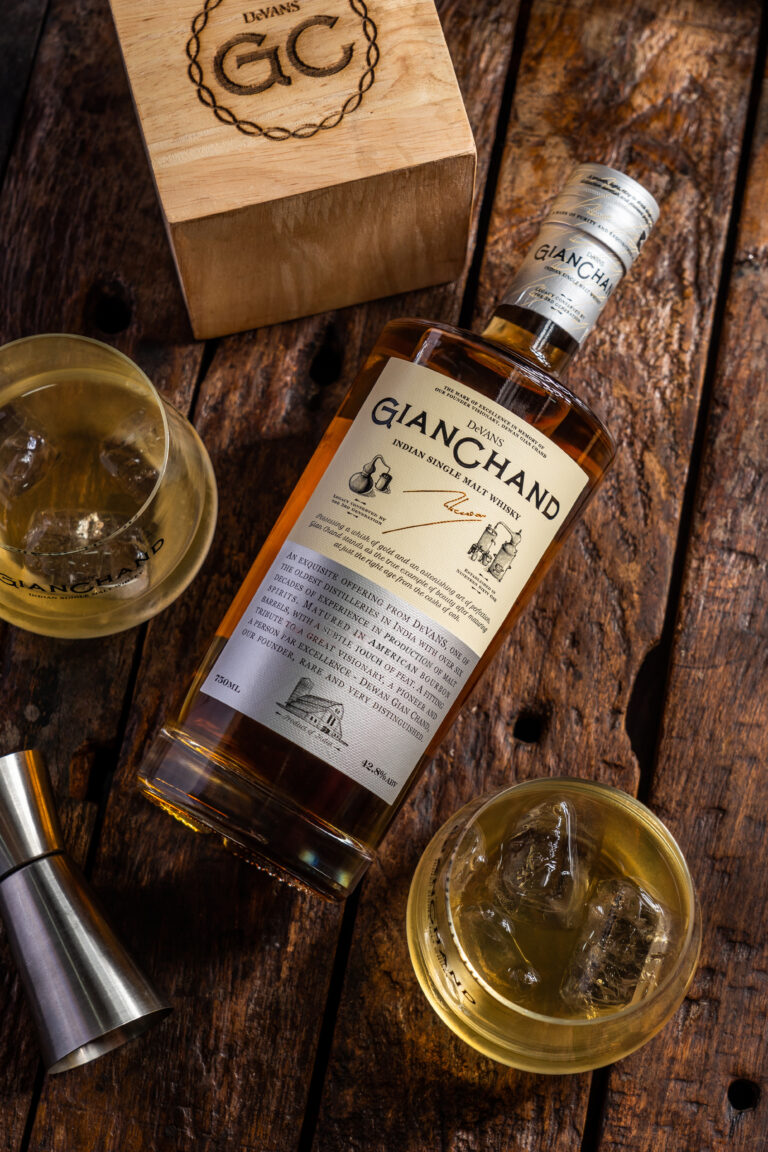 Hailing from the same place as Indri Trini, Kamet is a pleaser for those who like their single malts to be complex, yet an easy daily quaff. Himachali 6-row barley meets the trio of ex-Sherry, ex-French wine, ex-American whisky casks that combine to prodce an intriguing drink which makes you pause and take in its dual personality of accessiblity and complexity.  What I really like about Kamet is its distinct character. The sweetness of American casks, the spice and tannin of red wine and the savoury, reductive, nutty, oxidative tones from sherry casks combine, adding more character, bite, and charm on the palate.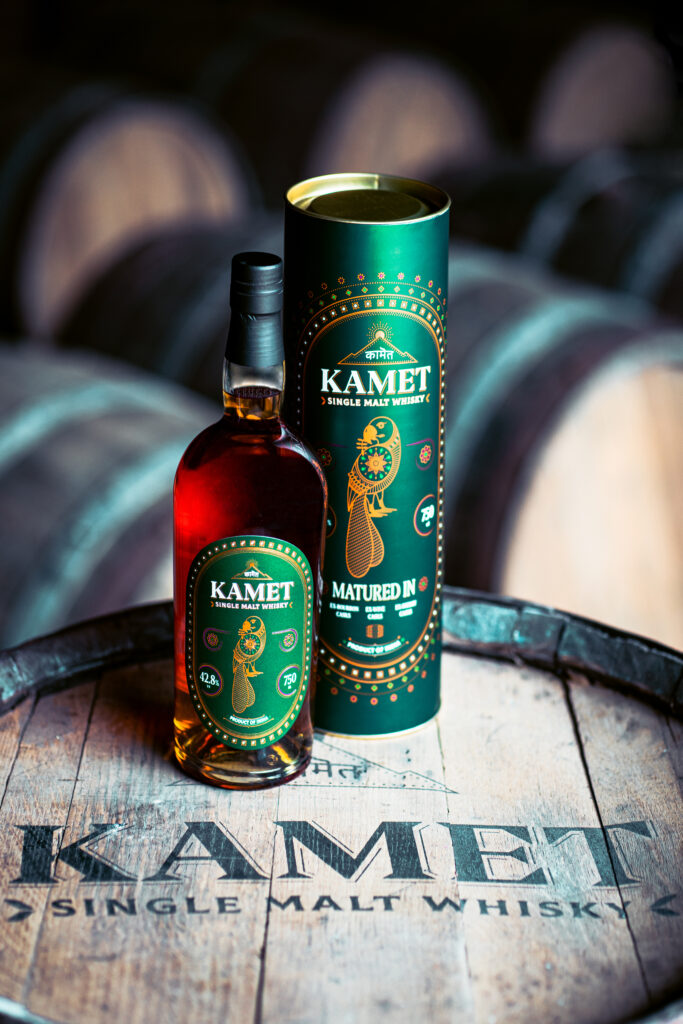 WOODBURNS CONTEMPORARY INDIAN WHISKY
Moving on from the debate of blended versus single malts, there's a new term in fashion — contemporary whiskies. From the the makers of Pumori Gin and Segredo Aldeia rums comes Woodburns combining peated and unpeated whiskies, aged in Bourbon casks under tropical conditions, before finishing into the fine liquor it is in Goa. Woodburns hits the sweet spot between the body of a blended whisky and the finesse of a single malt with a touch of peat to make it stand on its own, or even better, in an Old Fashioned cocktail. What Woodburns has done well is to make it better value for money at Rs 1500 to Rs 1800. At this price, they can experiment by putting brand loyalty aside for once. It will be interesting to see how Woodburns is elevated in its next avatar.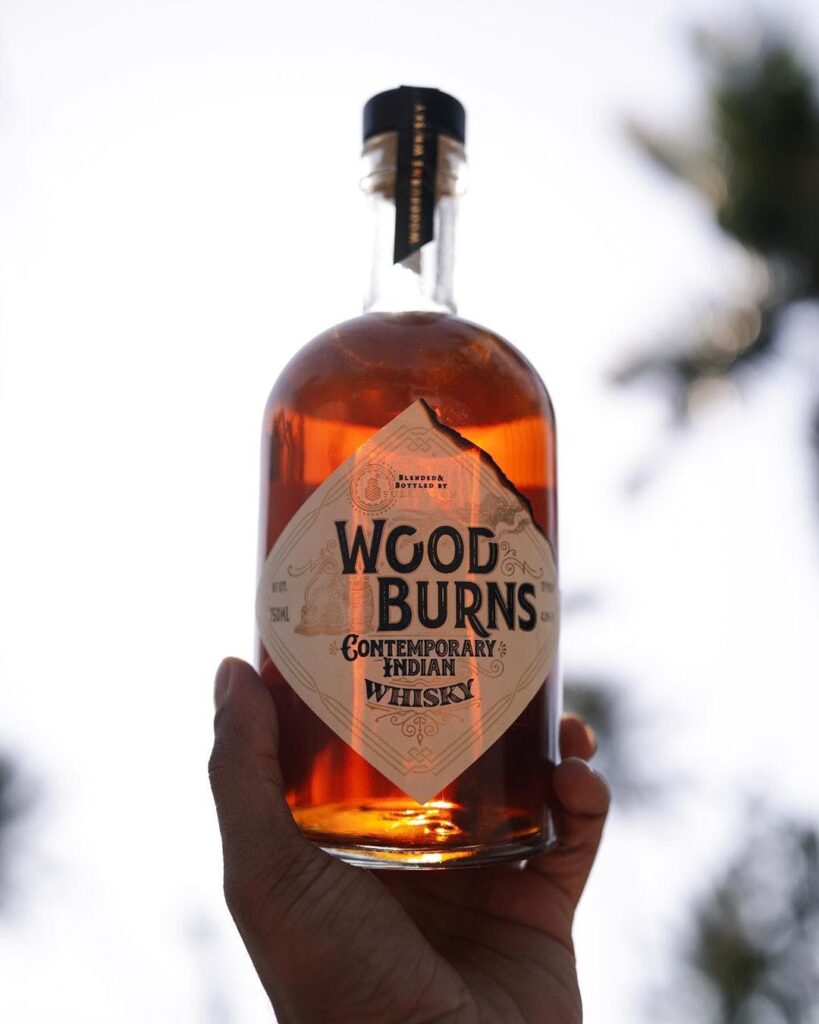 Solomon Diniz is thelone ranger who doesn't follow the rules of the game. I mean look at Cabo rum, who doesn't have a few bottles? Solomon created that. Then came Alenjandro rum, featuring toasted Goan red rice and Afghani raisins, who does that? So when Solomon decided to venture into whiskies, it had to be different too. What makes this whisky different and likeable is its smokey character and how Solomon got it. He decided to ditch peat, and burn the coconut husk wastes from Cabo and Tinto Feni production to mimic peaty smokiness while adding another dimension to the quintessential character of Islay and Highland Scotch. The whisky is aged in barrels with no addition of colour or sweetness. Its smoothness by virtue of passing over that coconut husk charcoal is delightful. It will definitely start a conversation that's been brewing (pun not intended) below the surface about pushing the envelope. All that's needed are a few sips to get started.