It's the Gin 2.0 era, and amongst the most exciting new 

entrants

 is Tamras Indian Dry Gin made by liquor first-timers

 Khalil Bachooali and Devika Bhagat. 
After about 20 gins on the shelves, we ask if we need more, and the answer is always YES! In 2014, there were 100 gin brands in the UK; by 2019 there were 750, and the numbers are still growing. There is probably room for dozens more in a country of our size, with its large bouquet of botanicals and unparalleled love for spirits.
But even among the new brands in the market, Tamras, which like most of them, is also based in Goa, stands out for its vast spread of botanicals, the manufacturing process, and even the personality of its bottle. It is also the first gin brand to open its gates to the public with a visitors centre in Colvale, North Goa, and a cocktail bar where the experience takes the gin a notch higher.
Of the two founders, Devika Bhagat was first introduced to gin by a friend in London in 2008, and she befriended the drink promptly. Khalil Bachooali drank whiskies till he met Devika, and as the rule goes, what she drinks, he drinks. He fell in love with gin as well. Devika is a highly respected screenwriter known for films like Manorama Six Feet Under, Bachna Ae Haseeno, Ladies vs Ricky Bahl (2011, and Four More Shots Please! on Amazon Prime, while Khalil produces TV commercials.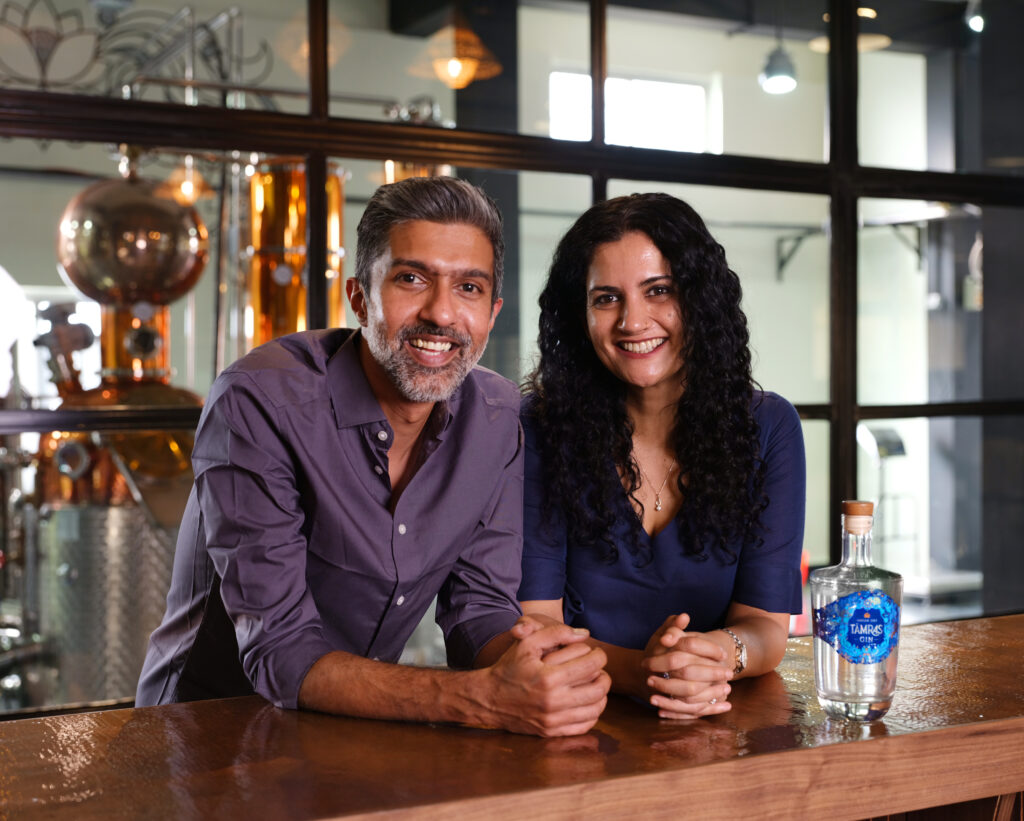 One rainy day in 2018, they found themselves  stranded in a London bar. With nothing else to do, they embarked on a gin tasting spree with the bartender. Like many other good stories that began over drinks, Tamras's journey probably started here. After two years of backpacking in the gin universe, hunting for knowledge, wisdom, and botanicals, they dropped anchor in Goa in 2020, amidst the first COVID wave. They set up their company Adventurist Spirits Distillery, and began work on the distillery with help from Julia Nourney, an award-winning distiller from Germany. The process took about a year. They waited until the pandemic eased to launch Tamras in December last year, first in Goa and then Maharashtra.
Tamras is a Sanskrit word that means copper (tam) and extract (ras). It is also an ode to the copper-still distillation process they use. The ingredients they use are a complex combination of  16 botanicals handpicked from across the globe – juniper berries (Macedonia), coriander seeds, lemon verbena, orris root (Morocco), angelica root (Poland), black cardamom, cubeb pepper (Indonesia), grapefruit (Egypt), fennel, green cardamom, lotus flower, lotus seed, mausambi, Indian lemon, Nilgiri tea, and Indian mint (India).
What makes Tamras stand out further is the five-step production process. The base spirit is made from the finest Basmati rice procured from Punjab. They offered me a sip to taste when I visited the distillery. More important than the botanicals is the fact that if any gin-maker offers you a sip of their base spirit, that's the first sign of quality.
The Tamras base gin is distilled with 12 of the 16 botanicals. However, whole citrus fruits, Nilgiri tea, Indian mint, and lotus seeds with flowers are distilled individually and separately because of their differing points. The five resulting distillates are finally combined slowly and reduced to the 'imperial' bottling strength of 42.8% over 28 days, ensuring their extended stay on the palate, which Julia learned from Cognac distilleries in France. In all, it takes at least two months before a bottle of Tamras is ready! No one does that in India.
With an encyclopaedic list of botanicals available in India, we have a problem of plenty. What to select and what to leave out is a challenge that every Indian gin maker is up against. And most end up with just a few ingredients to keep things simple. Devika and Khalil had no such inhibitions. As revealed earlier, they use as many as 16 botanicals from as many as six countries. In keeping with their company name, they have been genuinely adventurous.
I was lucky to have Khalil as my guide when I visited the distillery recently. He lives and breathes gin. He is enthusiastic, energetic, and dynamic. Keeping up with his energy level is challenging. It is a minimalist, well-designed distillery that could easily pass off for an artsy hotel's lobby. The 230-litre German Müeller copper still, which they have named 'Odysseus', sits at the centre as the crown jewel. I tasted the base spirit, individual botanicals, and the five individual distillates. This was followed by the gin tasting process. I tasted it neat,  on ice, and with Indian tonic water. All of which provided their unique experience and a complete journey of sorts.
Taste-wise, Tamras provides a juniper-forward front that slowly makes way for the spices like cardamom and coriander, followed by green and orange citruses and mint, with tea closing it with a peppery zing on the palate. In a blind tasting, it jumps out of the glass for its vivacity. With a splash of tonic, the palate becomes playfully candied, with an elegantly rounded nose and a balanced flavour of spice, citrus, and earthy flavours.
My fondest memory of the distillery visit was the stories about how Khalil and Devika picked each of the botanicals. The only thing that topped the storytelling was the Negroni and a lazy Martini that Khalil graciously fixed for us. The distillery is open for visits through prior booking, and if you're in Goa, it's an unmissable experience.
Of all the contemporary gins in the market, Tamras is indeed unique with its strong personality. I'd be happy to sip it on ice, as I do with Pumori and Hapusa, or in a Martini, as I do with Stranger & Sons and Terai. Its intense and complex aromas last much further than most other gins. I can sit and imbibe it all day long. 
Retail Price: Goa: Rs 1950, Mumbai: Rs 3200. Coming to Delhi soon.