Here's a story of a drink you may have never heard of. It's mentioned in the vedas, Mahabharata, Lord of the Rings, Games of Throne, Hobbit, and many such sagas. Possibly the oldest drink on the planet, Mead is a fermented honey drink which was also Lord Indra's favourite. It has made a comeback to India, thanks to the duo of Nitin Vishwas and Rohan Rehani, who're leaving no stones unturned in ensuring it reaches our cups with Moonshine Meadery.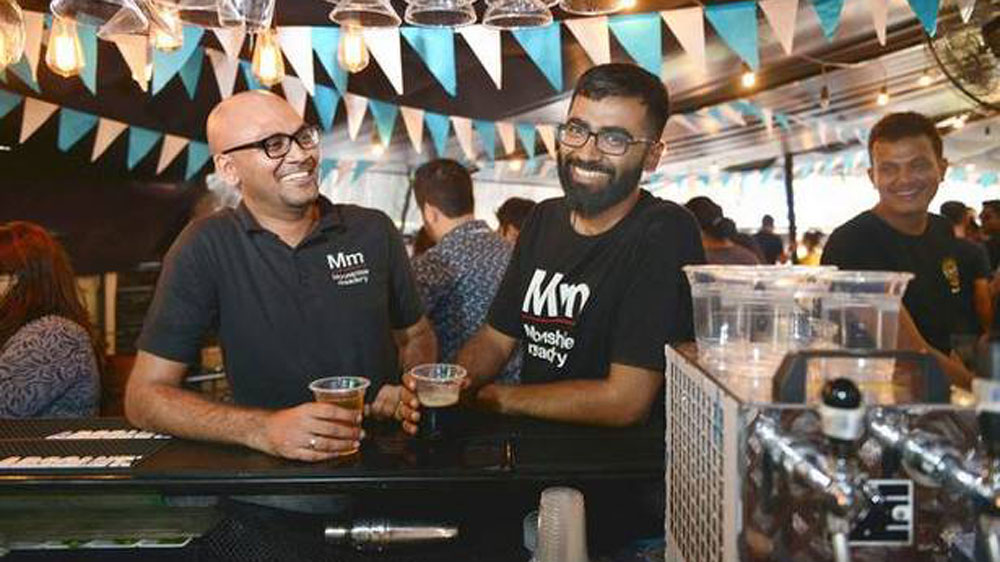 INCEPTION OF A MEADERY
Many success stories start from its creators brewing an idea in a garage for years before one of them takes the leap. Rohan and Nitin did that, quite literally – from being novice homebrewers to becoming Asia's first licensed meadery, which took them nearly half a decade. Nitin had an epiphany while reading about meads on an international flight. Upon landing, he tried convincing his childhood pal, Rohan, about re-introducing this heritage drink to India. They had nothing to base their plans and projections on, nor had any directions to follow since there were no pre-existing benchmarks or studies to learn from, thanks to the complete absence of a meaderies in the continent.
A few years of procrastination later, they finally approached the state excise department in March 2016, only to learn meads didn't qualify for a licence under prevailing laws. Then started the long and exhausting bureaucratic process. Meanwhile, they not only set up their production site, just outside Pune, Rohan even quit his cushy job and enrolled himself into a full-time bee-keeping programme at the Central Bee Research Institute. He patiently chased the excise department consistently on the side. Nearly two years later, when they were nearing losing hopes, the news of mead finally being intronised in the Maharashtra Excise filled them with renewed excitement in July 2017. And, thus, Moonshine Meadery was born, or rather we should say, a revolution was born.
NOW WE MAKE MEAD – HIT AND MISS TO PERFECTION
The duo ran over 200 trials before they created their first meads. To save costs, they self-built a ton of equipments on their own, had a long-standing problem of filtering their final product, labelled the bottles with hand, and delivered orders in their personal vehicles. The first meads that entered the market were the Apple Cyder with Kashmiri apples and Coffee Mead with Karnataka-grown beans. Nitin recalls knowing nothing about the liquor trade when they launched in February 2018. Their friends came to the rescue. They received lessons in the sweetness level of their drinks, product pricing in retail, how to have them priced on restaurants' menus, in trading and distribution, training and education, and often in humility. Nitin remembers posting himself as a part-time promoter at various liquor stores. He was even asked to shave his beard, and wear nothing but solid shirts. That made him learn about the magnitude of work involved, which made him depart from his corporate suit-tie-cufflink avatar in January 2018. He wears an insatiable smile while reminiscing about the early days.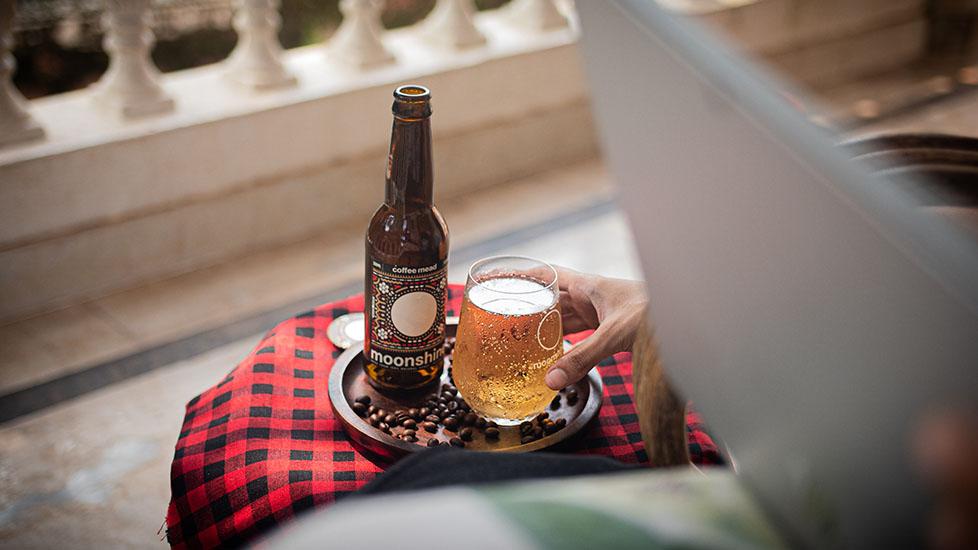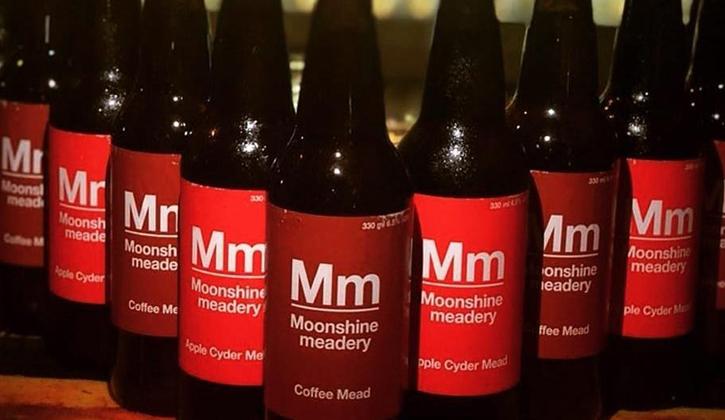 LEARNING ABOUT HONEY + EXPERIMENTING IN THE LABS
Rohan is the honey master of the meadery. He created a network during his bee-keeping programme and now sources honey from Maharashtra, Punjab, and Uttarakhand. He recalls meeting with small farmers while searching for varietal honey, which can be rather tricky to spot in india. From there, they met with a flourishing honey aggregator (trader) who educated them about the sourcing business and often financially supported them too. Today the meadery uses seven types of honey between their flagship meads – coffee, apple cyder, and traditional – and the search for more styles is on-going. They use them in different permutations for their experimental range called the MeadLab series. MeadLab is a fun concept of creating more exciting variants with flavour combinations that the sales team, clients, friends, professionals, or their customers suggest. They've already created over 15 different styles like cucumber, mango, earl grey, guava chilli, orange chocolate, christmas apple pie, smoked bacon, and bourbon oaked apple. Kokum and sea salt and cocoa husk were amongst my top rankers.
When asked, why such a wide variety of flavours, Nitin chuckles while sharing that honey was always the base of historic alcohols made from fermented fruits. Using flavours in honey drinks has come through the evolution of civilisation and they're humbly reviving the practice. He also stresses on the importance of seasonality. Honey changes seasonally, so does the basket of fruits, florals, spices, vegetables, and other ingredients. Put the two together and, well, you get two things, ins't it? One, the confirmation that mead is a craft natural beverage with nearly no possibility of creating a consistency in batches. And the other, the uncountable possibility of showcasing the irresistible flavours fresh to the season while keeping mead as a base. And that fine balance of nature-meets-business Moonshine Meadery has managed to strike very well. 
VISITING THE MEADERY
Before the national lockdown, I made my maiden visit to the meadery in Pune. Though I'm allergic to honey, tasting that array of beautiful raw nectars shall remain an imposing life-altering moment. There were honey that tasted of orange blossoms, berries, eucalyptus, mustard, rosewood, and carom seeds or Ajwain. Meads are gluten free, vegan-safe, and lower in calories than beers. Once honey is sourced, it's diluted with RO water and left to interact with Champagne yeast that takes upto two weeks to ferment it dry. Once it settles, it's filtered, bottled, pasteurised, and labeled. Moonshine has collaborated with several artists to have their labels designed, which makes their bottles a collectable proposition. And they can be held on the shelves for long.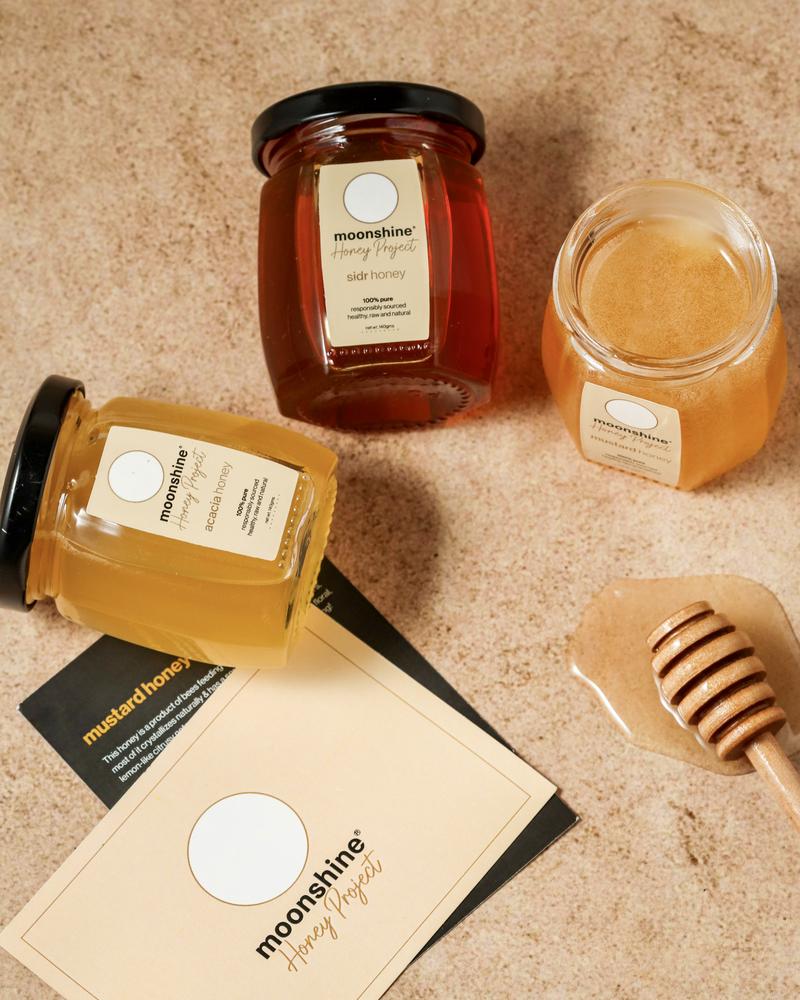 Meads, unlike beers or ciders, don't have an expiry date, rather they get better with age. The honey flavours get further amalgamated in the drink, developing layers of complexity, and shining brighter on the palate with time. Colours also deepen. We tasted youthful and older meads, served at room temperature, which tasted much better than when chilled. Of course, this also varies from the style of mead being served, which further urges the consumers to experiment and find their own favourite style of imbibing this elixir of gods and vikings.
DIVERSIFICATION IN MEADS
To further make their offerings exciting, Moonshine Meadery is now working with Maharashtra's tribal communities to source strains of some sacred honey. They had to painstakingly convince them that their beloved nectar won't be exploited for commercial purposes and it'll be held with utmost regard. Nitin shares that some tribes pray for a week before even entering the forest and heavily guard their trails to ensure no one could trace it, securing their liquid gold like a lioness protecting her cubs. These meads yield upto 13% alcohol and fetch upto INR6000 for a 750ml portion. It reminded me of the oxidised wines of Jura or a well-crafted Olorosso sherry, partially piney and resiny, utterly complex and layered with notes of sap, savouriness, animally character, sweet tobacco, and earth. On the palate, it stood astute with ethereal acidity, and an everlasting aftertaste. It wasn't available for sale during our visit.
MATI MEAD PROJECT – LIQUID GOLD
The tribal honey mead will be a part of a bigger offering called the 'Mati Project'. It will feature different batches of special meads, produced from single origin honey from various parts of India, accentuating their special characteristics. The plan is to work with local potters to design special earthenware bottles in which they'll be sold. Meads, like wines, can be barrel aged, and some of the Mati meads may see some maturation depending on their individual personality and style. Since meads don't oxidise either, Mati meads will be able to withstand the test of time over decades, and it'll start at the meadery with a minimum six months ageing prior to release. Bottles will read 'best after' date, further stressing the urge to hold on to the liquid for a rather special occasion. Such liquid definitely demands and justifies a higher tag. Yet, they won't be even a fraction of the price of your favourite Bordeaux. If you are a proud guardian of a discerning palate, keep an eye on their release as they'll be small batch produce. 
WHAT DO I THINK OF MEADS? THE FUTURE?
So, for anyone approaching a mead must bear in mind that it isn't a beer or a cider, and must be treated as a drink by itself. There's way more mysticism and romance in the liquid, and definitely holds more promise than other low alcohol ferments. It's a category that's bound to grow rapidly and earn its spot on our shelves and the list of favourites for our Friday evening soirees. It doesn't take too long to befriend the taste of meads, but it stays on like a cruel mistress, arresting your desire of stopping at one. And lets not forget what Albert Einstein said – if the bee disappears from the surface of the earth, man would have no more than four years to live. Now remember when you're drinking meads next time, you're making a small contribution towards keeping the planet alive. 
Stay alive and drink more meads, after all all you mead is love!!